Social Media Marketing Services
Go Social, Be Where Your Audience Is!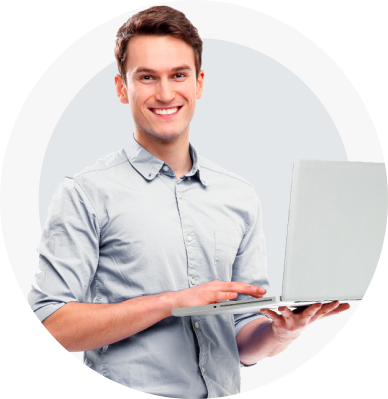 Use Social Media and Build Your Brand with an Amazing Community of Happy Customers
When you provide a space to your audience where they can directly reach you out, they connect and engage better with your brand and put their trust in you. They definitely spread a word of mouth and that's the best marketing ever. 
The best way to provide this connecting space is Social Media. Being on social media, you can let your audience know you better by keeping them regularly updated about your business activities and plans. You can also communicate your values and that will make them trust your brand even more which will help you build your online community full of happy clients and customers. With a great community, you've definitely got a well-established brand presence and position which ultimately brings in profits and success to your business. 
And all of this only requires amazingly creative and strategized Social Media Marketing. We've got you covered here. With our talented team of creative copywriters, graphic designers, and social media marketers, you get a great social media plan that brings exponential results. 
Let's Grab the Happy Customer From Social Media
Our Social Media Marketing Services
Unleash the benefits of social media with every social media channel and activity covered in our extensive social media marketing services.
Social Media Marketing Process
Strategy Planning
A perfect plan always leads to perfect results. So, we start by discussing your requirements, objectives, and expectations and create a comprehensive plan creatively strategizing the activities that will bring the best social media marketing results meeting your goals and expectations.

Strategy Implementation
Just planning a campaign will not do the work for you. Once we have the blueprint of what needs to be done, we work on applying the most creative approaches to implement the plans to get the prefect results.

Strategy Monitoring
Knowing how your plans are working out is crucial to mark the growth and find scope for improvement and enhancement. So, we constantly monitor the metrics in relation with post engagements, follower counts, and other social media parameters so that we're sure that the campaign is performing at all levels and scales.
Reporting and Modifications
Reports give the perfect insights to us as well as you about the growth that marketing has brought to your business. We create weekly, biweekly, and monthly reports on the campaign performance and work on modifications to constantly enhance the business growth achieved through social media marketing.
Why Social Media Marketing?
Social Media is the door that opens up to your target audience. It's the easiest path that leads you to your target audience and you can connect with them in amazing ways over social media. Right from starting to create engagement to establishing brand trust and building your own online community, social media does it all for you. With Social Media Marketing, you can unleash the potentials for scalable and expandable business growth, profitability, and success. That leaves no reason for not trying out social media marketing. So, when are you going social with your business?
Frequently Asked Questions (FAQs)
What can social media do for my business?
Social media can help your business in ways you didn't even think of if you use the platforms strategically. With the right and intelligent use of various social media platforms, you can create a good market for your product and services by establishing your own online community where your target audience engages with your brand and help you lead business success.
How is SMM different from SMO?
SMM refers to social media marketing while SMO refers to social media optimization. SMO is used to enhance the on-page activities on your website to bring more traffic. SMM is a wider term. Although it is also done to generate more traffic, it involves many other processes which are off-page and are performed with higher aims of establishing brand awareness and building an online community.
How much do I need to spend on Social Media Marketing for my business?
That totally depends on your marketing budget and goals. We have different packages you can choose from. In case you're having a hard time deciding what to choose, you can contact us, we can schedule an initial meeting, we can discuss your requirements and goals, and our experts can suggest you the best package that will perfectly cover all your needs and expectations.
How much time will it take to get results from Social Media Marketing?
You can expect results right from the first month. However, that doesn't mean all your goals shall be accomplished right there. Social media marketing takes time and the results come gradually. As you move forward, your results keep improving. All you need to do is be consistent with your marketing efforts.
While you may be using social media for a long time, using it for marketing and business growth is tricky and requires strategized approaches that can best be created by expert, experienced, creative, and talented professionals. Our team is built with amazingly creative heads who use their talents to bring the best results for your business from social media so that you see yourselves at the top of the stairs to success.